Secret Gardens is back, Sunday May 8th, 2022
About the event
Look forward to the return of Oxton's Secret Gardens. You will be able to enjoy all the usual attractions including:
Nearly 20 wonderful gardens – some old some new, some with their own artistes
Entertainments, the Friends of the Arno Plant Stall, kid's activities and street food in the village centre
Refreshments, the Gala Raffle, music and local artistes in Mount Pleasant and the HUB (Prenton Prep)
Children's Activities
As well as the ususal Kid's stuff in the OBK carpark there are activities being planned for the run-up to the day.
So far our local artist, April Grisdale (www.april-illustrations.co.uk) has very kindly designed 3 original colouring sheets. Get your kids to colour them in and post them in your window in time for the big day.
You can download them by clicking on number one, number two and number three.
Ticket information – advance tickets £8, on-the-day £10.
CLICK HERE for Advance E-Tickets which are now on sale. Exchange your E-ticket for a fully illustrated programme at one of our service points:
Oxton Society stall in the village centre
The Hub (Prenton Prep School), Mount Pleasant
The Free Park, in Storeton Rd (Oxton Fields)
OR scan the QR code to buy your E-ticket.
Buy Advance Tickets in person
You can buy Advance Tickets (£8) in person from 8th  April in Oxton Village from:
Greens, Thyme, The Drawing Room, Oxton Boutique and the Conservative Club
and from:
Brennan Ayre O'Neill's offices in Prenton and Bromborough
Oxton Bookshop in the Williamson Gallery, Slatey Rd
Homebird, Heswall
.
Buy Tickets on the day (£10, under 18s free)
You can buy tickets on the day from:
shops and the Oxton Society stall in the village centre
the Free Car Park, in Storeton Rd (Oxton Fields)
The Hub (Prenton Prep School) Mount Pleasant
Oxton Bookshop in the Williamson Gallery
We need your Help
Click here for a full detailsof how you can help.
We always need more volunteers for a variety of jobs, in advance and on the day. If you can spare a couple of hours then please contact us at  secretgardens@theoxtonsociety.co.uk
We also need help for
Virtual Secret Gardens, 2021
It was a blow when we were cancelled during the first lockdown.  We decided that if people couldn't come to the gardens, then the gardens would come to them. We hosted a 'virtual' event online which attracted more than 2,500 visitors and raised £3,000 of donations for Wirral Foodbank. Dozens of videos and photographs of some of the village's stunning private and public gardens were on the internet. We had more than 25 beautiful gardens and flower displays to show, musical performances by local entertainers, fun quizzes and a live raffle draw with some amazing prizes up for grabs, donated by Oxton businesses.
You can still sample the event – simply put https://www.facebook.com/oxtonsecretgardens in your internet browser to access the page and scroll down to view the highlights.
The 'Virtual' Secret Gardens of Oxton 2021 was sponsored by Bogans Carpets, Revive Stone Walls, Brennan Ayre O'Neill, OvenPro, Ewer-Roberts Flowers, Edwards at Oxton, Bon Bakery, The Oxton Artists, Oxton Electrical, Eraklis Developments and Host.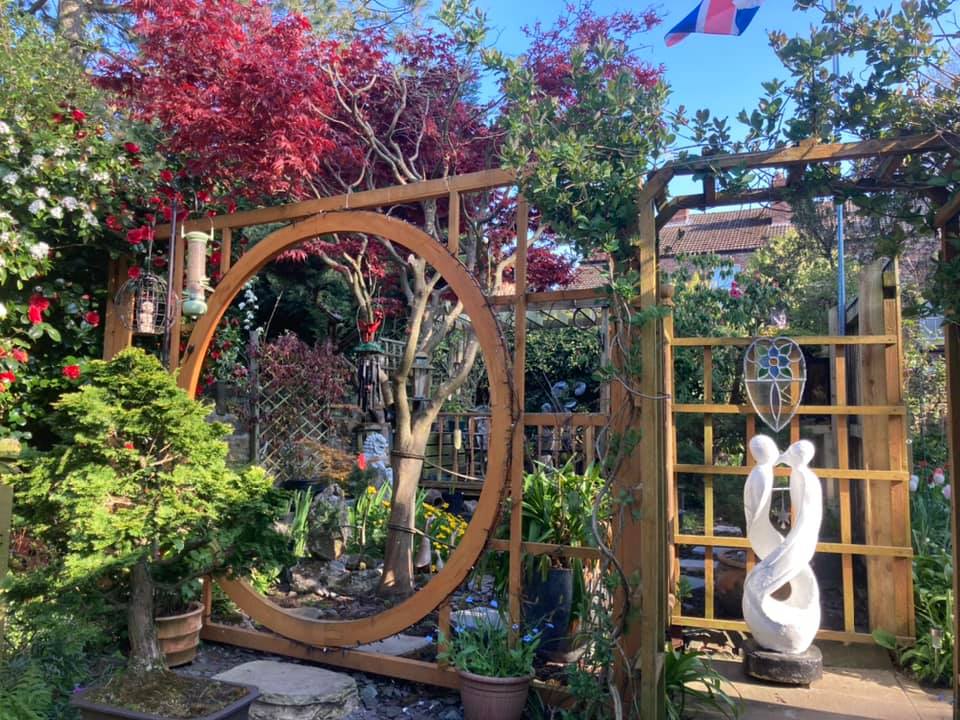 One of the gardens being featured in the 2021 event
Secret Gardens 2019
The last 'real' Secret Gardens event in 2019 was a major success, helped by a beautiful day of sunshine which brought out the crowds in their thousands. Ticket sales were up by 10% on 2017 and over 3,000 visitors saw about 20 gardens. Our refreshments, Raffle and Plant Stall (Friends of the Arno) also made record returns, along with the children's entertainments run by the Woodcraft Folk. A major departure was the Makers' Market in the village centre, organised by Kate from Green's shop with about 18 street food stalls and craft offerings – which proved to be very popular.
Since 2001, supported by over 400 volunteers, the event has raised over £320,000 for local charities. The 2019 charities, the Birkenhead Woodcraft Folk, Sundown's, The Vikes Youth Club and The Oxton Society, shared over £20,000 proceeds.  Secret Gardens won a Britain in Bloom (RHS) Award 2017.
View James O"Hanlon's lovely photos of the 2019 event.