Secret Gardens, CANCELLED but Oxton's (Virtual) Secret Gardens is on May 9th
About the Event
We have sadly taken the decision to cancel this year's Secret Gardens because of Covid.
We would like to thank our partner charities, sponsors, volunteers, businesses, organisations, entertainers and garden owners for their support.  We are so sorry to disappoint our visitors who make this event so special, but your health, and the health of all participants is our priority.  We are as sad as you, but we expect to be back in 2022. See you then!
Oxton's (virtual) Gardens, 2021
BUT all is not lost as residents can still enjoy the event from the comfort of their own homes. Dozens of videos and photographs of some of the village's stunning private and public gardens will be shown free on the internet on Sunday, May 9.
Organiser Kirsty Cotton said: "The Secret Gardens of Oxton usually attracts around 4,000 visitors and is the highlight of the local calendar so it was a blow when last year's event was cancelled during the first lockdown.  We decided that if people couldn't come to the gardens, then the gardens would come to them and we hosted a 'virtual' event online which attracted more than 2,500 visitors and raised £3,000 for Wirral Foodbank.
"We have had to stage the event online again this year because of current restrictions and we're hoping it will be just as successful. We have more than 25 beautiful gardens and flower displays to show, musical performances by local entertainers, fun quizzes and a live raffle draw with some amazing prizes up for grabs that have been donated by Oxton businesses."
The event runs from 10am and 4pm on 'Oxton Secret Gardens' Facebook page but you don't have to be on Facebook to see it. Simply put https://www.facebook.com/oxtonsecretgardens in your internet browser to access the page.
The event is free to view but visitors can make a voluntary donation via Just Giving. Money raised from sponsorship, raffles and voluntary online donations will be split between the Oxton Society and Friends of the Arno.
Rhiannon Evans, chair of the Oxton Society, said: "As a charity, we rely on our fundraising activities throughout the year to support the valuable work we do in promoting and enhancing the Conservation Area and for public events such as the Christmas lights switch-on and summer hanging baskets.
"The Pandemic has had a massive effect on all charities' fundraising endeavours, including ours. We very much hope that people who visit the 'Virtual' Secret Gardens of Oxton page will make a voluntary donation to support our work and that of the Friends of the Arno.
"I'm sure everyone will agree that volunteers have done a tremendous job in making the Arno as beautiful and welcoming as possible over the past year for people who have visited for their daily exercise during Lockdown restrictions."
The event will be also be supporting the Wirral Foodbank this year by encouraging local residents to donate food and other essentials using the donation boxes located by the notice board in the village and by the Ingestre Road entrance to the Arno in the week running up to the event. The donation boxes will be available between 10am and 4pm each day. All donations gratefully received.
The 'Virtual' Secret Gardens of Oxton 2021 is sponsored by Bogans Carpets, Revive Stone Walls, Brennan Ayre O'Neill, OvenPro, Ewer-Roberts Flowers, Edwards at Oxton, Bon Bakery, The Oxton Artists, Oxton Electrical, Eraklis Developments and Host.
An array of raffle prizes have been donated by local businesses including a £300 voucher for Bogans Carpets; vouchers and prizes for Ewer-Roberts Flowers, Noubalm, Oxton Boutique, the Drawing Room, Host, Anne Roberts, the Cookery Nook and Mayflower plus a personal portrait of your front door courtesy of Oxtonart. There's also wine, a picnic basket and cuddly toy plus much much more.
Raffle tickets are on sale at the Drawing Room and Oxton Boutique up until Saturday, May 8. Volunteers will also be selling tickets at The Willows on Saturday, May 8 between 10am and 4pm and on Sunday, May 9 until 2.30pm. A live raffle draw will be made on the Oxton Secret Gardens Facebook page at 3.50pm on Sunday, May 9.
We hope to see you all there!
For more details please email secretgardens@theoxtonsociety.co.uk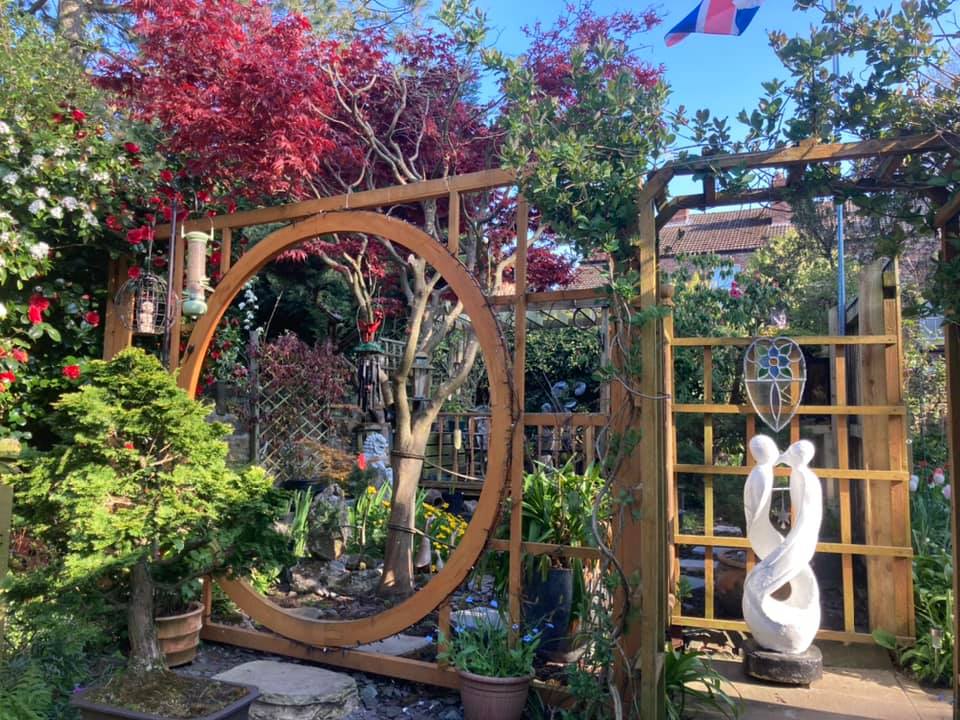 One of the gardens being featured in the 2021 event
Secret Gardens 2019
The last 'real' Secret Gardens event in 2019 was a major success, helped by a beautiful day of sunshine which brought out the crowds in their thousands. Ticket sales were up by 10% on 2017 and over 3,000 visitors saw about 20 gardens. Our refreshments, Raffle and Plant Stall (Friends of the Arno) also made record returns, along with the children's entertainments run by the Woodcraft Folk. A major departure was the Makers' Market in the village centre, organised by Kate from Green's shop with about 18 street food stalls and craft offerings – which proved to be very popular.
Since 2001, supported by over 400 volunteers, the event has raised over £320,000 for local charities. The 2019 charities, the Birkenhead Woodcraft Folk, Sundown's, The Vikes Youth Club and The Oxton Society, shared over £20,000 proceeds.  Secret Gardens won a Britain in Bloom (RHS) Award 2017.
View James O"Hanlon's lovely photos of the 2019 event.